learning, serving and fellowship
Whether you are new to Charlotte or have been here for your whole life, you'll find a community built on faith, compassion, generosity and love.
We are grateful for your interest in Young Adults at Covenant!
Our goal is to continually build a community of friends who serve together, learn together, and share life's ups and downs together. We would love for you to be a part of it.
Whether you are new to Charlotte or have been here for your whole life, you'll find a community built on faith, compassion, generosity, and love here at Covenant. We strive to be a place where each and every person feels supported, while also being a ministry which serves the wider community and world. We invite you to follow us on
Facebook
and
Instagram
to find out more about what we have in store.
Pastoral Resident for Education and Young Adult Ministry
Ian's ministry centers around the idea that we are at our best when in community with others. Ian seeks to integrate relationship-building, education, and service as a way of cultivating the life of faith. He brings experience serving in small churches, urban environments, the military, and hospital settings. Prior to accepting God's call to ministry, Ian worked as a strategy consultant in London and Atlanta.
At Covenant Young Adults, we believe that we are called to learn with and from each other. That's why we have multiple opportunities for community learning throughout the year. We hope you'll take advantage of these events: they are a wonderful way to grow in faith while getting to know some great people.
Third Sunday of every month at 9:30 a.m. in the Welcome Center
We learn best when we learn from and with each other. This is a judgment-free zone and welcomes any young adult. So bring your thoughts, your questions, and your doubts. Coffeehouse isn't a Sunday School class. Nor is it a small group. Instead, it's a place for conversation. In an informal setting, we will explore our views on God.
Occurring Periodically Throughout the Year
Throughout the year we offer special learning opportunities on the issues that interest and challenge you the most. These cover special topics and occasionally include uniquely qualified guest speakers. They're a great way to learn without committing to a regular offering.
Held at a Member's Home on a Quarterly Basis
Mixing education and fellowship, Living Room Talks provide an opportunity to make friends, listen to a guest speaker, and engage in small group discussion centered around topics that truly influence your life.
Held Each Year at Varying Locations
Each year we offer young adults an opportunity to step outside of their routine and encounter faith and community in a new way. Our annual retreat is a great way to cultivate faithful practices, nurture friendships, and have a memorable and enjoyable experience.
Young Adults Small Groups
We're home to a number of vibrant small groups. These groups offer you an opportunity to build tight-knit and trusting relationships with others, while learning and serving together. While we are a big church, our small groups help young adults to feel closely connected with one another.


Faith and Fellowship

Faith and Fellowship is geared towards young adult women in their late 20s and 30s. This supportive community helps its members to build lasting friendships rooted in faith, while navigating important life questions together. The group meets off-campus on the 1st and 3rd Tuesdays of the month from 7-8 p.m.
Young Adults Men's Group
This group engages with important and often challenging faith-based questions, while simultaneously nurturing life-long relationships. The group meets twice a month, on the 2nd and 4th Wednesdays, 7 p.m. at Dilworth Neighborhood Grille.
Sunday Evening Women's Group
A Sunday evening offering for women which aims to cultivate community, engage in thoughtful discussion, and build friendships. Contact us to find out more!
Young Adult Couples Groups
We have multiple groups available for couples!
Contact us
if you are interested in getting involved
The Path, Young Adult Women's Small Group
The Path is designed for young adult women in their 20s in mind, as well as women who are new to Charlotte and/or Covenant. This group usually meets on the 1st and 3rd Tuesdays of each month at 7-8 p.m. in room 203 of the Welcome Center but currently only through Zoom. Contact
Ashlee Anderson
or
Robin Goodson
to get connected – w
e would love to have you join!
Uptown Bible Study
Do you work in uptown? Join us on Tuesdays from noon-1 p.m. at The Foundation for the Carolinas (220 North Tryon St.) or
Zoom Meeting
. during quarantine. Bring your lunch and engage in a guided Bible study. All are welcome!
Engaged and Newlyweds Group
This group meets for lunch on the second Sunday of each month. The group aims to share in one another's joy, while laying a great foundation for a successful and loving marriage.
Contact Ian
for more details!
At least once per month we offer young adults the opportunity to work side by side to serve their neighbors across Charlotte. Collaborating with ministry partners across Charlotte and the wider region, Covenant Young Adults offers you the opportunity to make a real impact. Contact us to learn more about upcoming opportunities.
Seasonal Service Projects
Throughout the year, we gather to support significant group projects such as Covenant Impacts Charlotte (our church-wide day of service), Habitat for Humanity builds, or environmental cleanups. We'd love to have you participate in our next one!
Global and Regional Mission Work
We encourage young adults to participate in Covenant-sponsored
mission trips around the world
. These offerings occur throughout the year and are a great way to serve, learn, and build connections across our church community.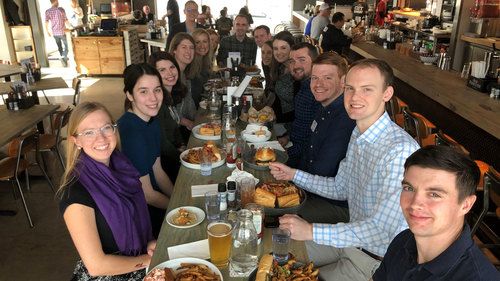 At Covenant Young Adults we strive to cultivate meaningful, lasting, and faith-centered friendships. As such, we create regular opportunities for you to meet new people and strengthen existing relationships. We hope you will consider joining us! Our fellowship events are always open to all young adults and they are a great way to plug in if you are new to Charlotte or Covenant.

First Sunday Brunches
On the first Sunday of each month we gather at a local restaurant at 12:30 to share a meal and conversation together. It is a great way to catch-up, meet new friends, and explore the city! Contact us to learn more about the next one!

Seasonal and Special Events
Throughout the year we host some great special and seasonal events, such as our Spring Social, Fall Kick Off, Friendsgiving, and Christmas Party. We'd love to welcome you to our next one!

Quarterly Happy Hours
Every three months we offer an informal happy hour at one of Charlotte's amazing breweries! These casual Sunday evening gatherings are a fun way to connect and get ready for the week ahead!
Interested in connecting with us?
People seek out a church for many different reasons. To learn more and get connected, drop Ian a line below and he will reach out.